The Try Scuba program is designed to simply introduce you to scuba diving in a pool or confined water. Once you complete your pool or confined water training, continue your adventure in the open water by continuing in the NAUI Passport Scuba Diver Program
Min Age: Confined Water – 8 Yrs
Whats Next: Passport Diver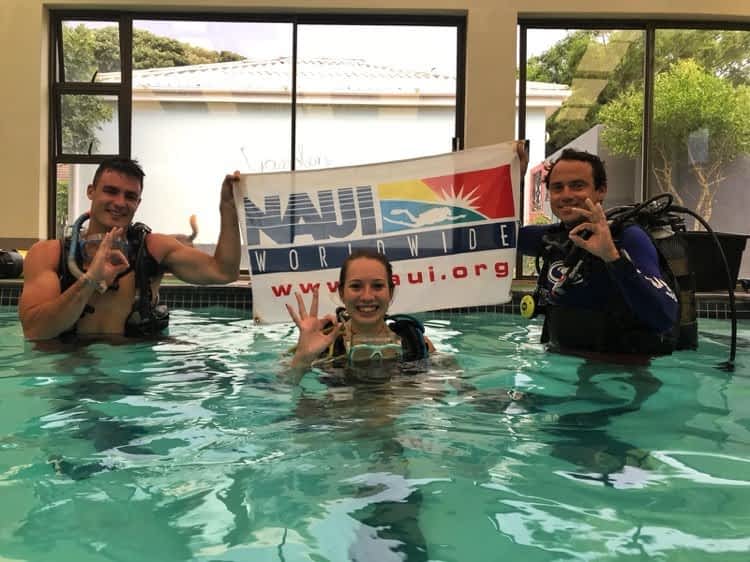 Earn your Passport Scuba Diver certification by completing the required open water dives with a Go Dive Instructor. Upon successful completion, you may continue to enjoy scuba diving under the direct supervision of an Instructor or dive leader for up to 12 months. Engaging in such activities during the initial 12-month period automatically extends your passport for an additional 12 months. NAUI Passport Scuba Divers are qualified to participate in supervised dives in conditions similar to those in which they are trained.
As an active Passport holder, you are encouraged to continue your diving education by attending a NAUI Scuba Diver Certification Program. The successful completion of a NAUI Scuba Diver Program bestows upon you the freedom to dive independent of direct supervision, and if you enroll within six months of your most recent Passport experience, your skills proficiency may be credited towards the requirements of the course. Read more
Min Age: Open Water Dives – 10Yrs
Whats Next: Open Water Scuba Diver
Just imagine where you will go! Begin your underwater explorations by enrolling in a NAUI Scuba Diver class. This is our entry-level certification course where you will learn the fundamental knowledge and skills to safety dive in open water.
During your NAUI Scuba Diver class, you will learn about modern dive equipment, diving sciences, responsible diving practices and the environment. Diving skills will be taught and practiced first in the comfort and convenience of a confined water environment and finally during your open water training dives with your NAUI Instructor.

Min Age: 15 Yrs
Whats Next: Advanced Open Water